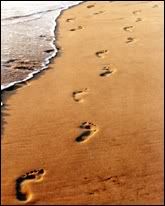 Writers blog. Authors blog. What used to be a fad has become a necessity for an online identity, and therefore, a mandatory part of self-promotion. One measure of a blog's success is the number of comments - the replies of readers to the individual posts.
New bloggers face a long, dry spell of inactivity before word spreads about their existence, and hopefully, the quality posts. Word of mouth takes time, and blogging is all about WOM. Expert bloggers, those guys and gals who start blogs and sell them eighteen months later for five and six figures, say it takes a solid year of consistent posting and marketing before a blog ripens. So we silently, steadily endure the nonexistence until one day, we see comments.
Ah, comments. Once we start receiving them, we worship them. But most people don't bother. They are such a hurry racing from one blog to another, gathering information and news, that they just keep moving on, leaving no footprint they were there.
Shame on people who do not leave comments on blogs. Frankly, it's not very smart to race through blogs without leaving your calling card.
Why you need to leave a comment on each blog post you read:
1. Good manners.
The blog owner spent time to entertain, inform and educate you. The least you can do is say thanks.
2. Breadcrumbs.
Leave a comment, leave your name, and leave your website/blog. If your remarks are remarkable enough, other readers will gravitate to your site, intrigued about who and what you are. There, they read your posts, and hopefully leave their comments on your site.
3. Networking.
You never know who's reading a blog because most do not leave a sign they've been there. Therefore, you never know who will see your posted comment and get in touch. My blog has led to increased Facebook friends, Twitter followers and FundsforWriters readers. Leave comments on agent, publisher, editor and conference blogs, and you never know who will ask to see your work, or offer a gig, or consider you for a guest post.
4. Public Display.
Every writer is an expert, or trying to be an expert. YA author, journalist, poet, crime writer, food critic, literary scribe. Blog comments are free advertisement of your skills. Here you leave savvy remarks, challenge an opinion, offer another view, or praise the stance made in the post. You flex your verbal muscle, and in doing so, attract others to follow you home to your site.
So, from now on, don't pass up the opportunity to post a comment. Not only is it wise, but it's the proper move to make. Now...how many of you have the guts to leave a remark below? Remember, leave your name, email and website/blog. You want people to know who you are.
And I thank you in advance.