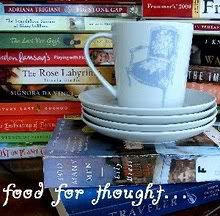 Nonfiction writers have it easy. They are considered experts in some sort of field. Fiction writers, while being specialized in some style of writing, don't have that expertise. They write well. They make up stories. But what the heck do they have to write about to justify maintaining a blog?
Okay, all you fiction writers. I'm about to give you reasons to blog, and remove your excuses not to.
1. Write about your struggles with writing.
However, and this is a big however, spin it into a lesson for all writers. This blog isn't about just you. Frankly, unless you're a NYT Bestselling author like
Rick Riordan
of the Percy Jackson YA books, why does anyone want to know about you? So you are in essence using yourself as an analogy for a larger point applicable to all readers.
Jody Hedlund
publishes faith romance novels via
Bethany House Publishing
. Her blog covers inspirational and motivational messages for writers, based upon her personal experiences. She has a huge following.
2. Write about your genre.
Who are the movers and shakers in your part of the world? What have they released lately? Does it accurately represent the genre? Is it better or worse than the last book? What is their characteristic voice that makes them successful? If you claim to be a romance writer, show you know the business.
Jungle Red Writers
is a blog by eight mystery/suspense writing women. They cover their genre, from reviews to thoughts to breaking news.
Femme Fatales
covers crime fiction and the list of writers contains names like Hank Phillipi Ryan, Elaine Viets, Dana Andrews, Dana Cameron, and Charlaine Harris.
3. Write about the business of writing.
As with Item 1, cover the news of publishing and the cost of doing business as a writer from your standpoint, but in order to make a larger point for the reader. Give them take-away value. Horror and mystery author
JA Konrath
is extraordinary in this regard.
4. Review books.
How hard is that? Just keep the books defined to your genre, or people don't correlate the genre with you and your books.
Sarah McCoy
, author of
The Time It Snowed in Puerto Rico
, has
Thursday Tea Party on her blog
where she reviews a book and explains what type of tea the book prompted her to sip.
5. Cover events.
Pull a journalistic feat of reporting about your book signings, speaking engagements, online chats. Be creative. Be cute. Be informational. Use anecdotes and descriptions.
Bob Mayer
recently covered Thrillerfest, not only to show us who he met and what he concluded from events, but also to analyze his switch from traditional to self-publishing and how he felt about meeting the people who used to publish him.
6. Interview people.
Agents, editors, other authors published in your genre. Literary review publishers, retreat sponsors, MFA professors.
7. Show book trailers.
Pick a book trailer in your genre and dissect, recommend or critique it. Here's a book trailer for
Jessica McCann's All Different Kinds of Free
, a new release from
Bell Bridge Books
. It convinced me to go to Amazon and place an order.
8. Write about your research.
Diva Jefferson
, a very young writer in my Columbia, SC writers group is intense in her mission to become publisher in the romance genre. She's researched Scotland, applied to retreats in Scotland, read books on Scotland, and designed her website around Scotland. She's already prepared a book trailer that impresses me. She could write about what she's learned about dialect, regions of the country, dress, food, small towns, weather, shopping or history. Historical romance author
Elizabeth Boyce
writes about words and the many ways we love them.
9. Talk social networking, electronic publishing, and all the NEW technology in the writing world.
Most writers are lost in this regard, and whenever a fellow writer can make common sense out of it, they have great potential to snag followers. Sci-fi novelist and technie
Cory Doctorow
can talk technology in all its glory.
10. Cover your hobby.
Pets, cooking, the environment. Fiction authors have a life away from the computer.
Mystery Lovers Kitchen
is the brainchild of several cozy mystery authors who have characters who cook, bake, eat and love food.
Those are just a few ideas. Surely now your head is spinning with blog concepts now. If not, by the time you visit the above sites, you'll spark something. Tell me what you think? What type of blog can you think of as a fiction writer?