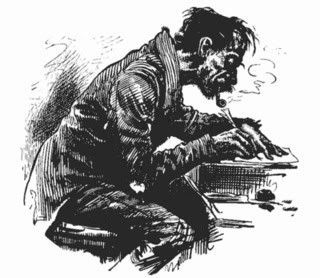 UPDATE: I'm getting lots of feedback on this post. I've just moved the blog (to include this post to my author site - www.chopeclark.com . Feel free to visit it there and leave a message that will be preserved forever!!! Thanks. ~HOPE
---
Do we Facebook more? Post twice a day on our blog? Tweet? Speak?
Actually, the best way to get more attention as a writer is to write more.
Write more stories, features, blog posts, guest blog posts, comments on blogs, editorials, interviews, contest entries. I'm not talking about resubbing the same old material. I'm not a firm believer in that on a regular basis. Instead, I think new, fresh, crisp, cracker-jack writing is what counts. For several reasons:
1. Your work gets better each time you tax your mind to write anew.
2. The more you distribute your work, the better the chance it'll be read . . .and you'll be followed.
3. You build a reputation as an expert. The more times you appear on a Google search, the better your credibility, or at least the higher your chances of being considered an expert or . . . gasp, as famous.
Do NOT write a story then spend weeks trying to place it, stopping in place, waiting for responses before delving into another tale. Keep writing. Pitch the old, turn back around to your keyboard, and write the new, nonstop, incessantly, with fervor. You're a word machine. If that first piece fails, then start over with it . . . or toss it, crack your knuckles and open a fresh page. No whining, no anger, no blame game. Always move forward.
Write, write more, edit and edit more. Produce until someone realizes you really are a writer.