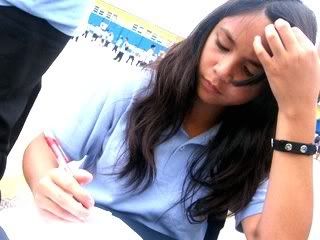 Jeff Goins, one of my favorite bloggers on writing, posted on his blog about his distaste for
writing prompts
.
AMEN, I shouted. I HATE WRITING PROMPTS. I posted the comment on Facebook and Twitter. Amazingly, a bunch of other writers felt the same way. Prompts are an age-old writing suggestion, suggested by the respected likes of
Julia Cameron
in The Artist's Way. I almost put journaling in the same light - practice writing. But then I always close the journal, ruing the time I could have spent on the novel, regretting that I expended energy writing well for nobody to see.
Search for writing prompts and you'll find all you need, to include morning emails to get you started and random ideas you can click on to help your brain find a clue. Sites such as:
Creative Writing Prompts
Writer's Digest Prompts
Prompt Generator
Writing Fix
Story Starters
(for kids)
As you would imagine, prompts are used to teach children how to write stories. Children, while imaginative, have to first learn that a story has a theme, a beginning, middle and end. Prompts help them define those terms and create a story that's molded properly.
Adults, however, should be past that. I can understand taking classes and attending college to hone writing, but as a freelancer, uninhibited by the walls of academia, you should be able to write . . . on your own. If you cannot come up with ideas, you are still in the learning phase of writing, teaching your thinking muscles to function properly.
As a freelancer, you are trying to earn a living. Ideas should be your meat and potatoes. You should be able to sit in your chair and not get up without an idea. In other words, you should be able to generate your own prompt, only you will use it to get somewhere, not just practice.
Maybe I'm being harsh, but if you are in the business, you write to publish. If you are still finding your way, you have the luxury of writing to prompts. If you need a prompt, you need another profession until you realize that a professional writer doesn't just write well . . . he writes well about great ideas.
The only writing prompt book I've read that I thoroughly enjoyed was Joe Bunting's
14 Prompts
. No, he doesn't know I'm writing this, and it's not an affiliate relationship. I just liked the easy way Joe writes and the practicality of his use of writing prompts. These you can use in the work, not just to expend ink.
To earn a living as a writer, write for purpose . . . not for practice.