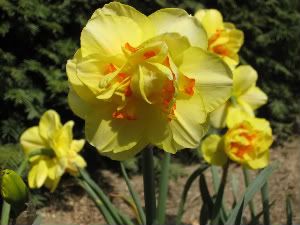 GARDENING CLUB MAGAZINE
http://www.gardeningclub.com/FAQ/FAQDetail.aspx?id=142226
The magazine goes out to members of the National Home Gardening Club. Accepts features of up to 2,000 words for which they pay 50 cents/word. Very pleasant publication.
ALSO pays $200 for 500-word essays on your personal experience in the garden.
http://www.gardeningclub.com/FAQ/FAQDetail.aspx?id=142228
Send your 500-word essay to:
Member Garden
Gardening How-To
P.O. Box 3401
Minnetonka, MN 55343
Or e-mail submissions to
elizabeth@gardeningclub.com
Please include your name, address, daytime phone number, member number, and at least one clear color photograph (not photocopy) of you in your garden.
NOTE: I like a publication that takes not only well-researched pieces for features, but also the personalized stories so many mags shy away from.
DOUBLE NOTE: I may have to give this a try. I have all sorts of stories and pics from my garden.