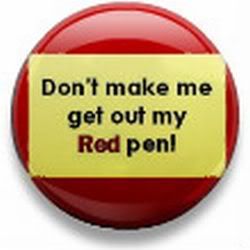 Yep - it's My Fiction Wednesday, and I'm up to my eyeballs in line-edits. For those who do not know what they are, line edits are changes the publisher/s editor
demands
suggests on every page of your manuscript. It's the epitome of critique. Page by page, line by line - and in red, no less. The track change features in MS Word gives the intense imagery of your high school English teacher's red ink pen. Scrolling through the manuscript, some pages appeared clean. Others look like a C- essay paper from a sophomore English Lit class.
My manuscript is 362 pages. The first night I breezed through 60 pages. Hey, wasn't painful at all. I got excited. Even posted on Twitter and Facebook about being in heaven. I'm sure a lot of seasoned authors (assuming they read my Tweets and Facebook) chuckled at me. But all I saw were a few verb, comma or adjective changes. I rarely used past perfect, and the editor inserted a few in there for the sake of flow. I was cool with that.
Another night - 30 pages.
Another night - I reached page 160. I felt smoking hot motivated to nail this line edit in record time, to impress the heck out of the editor. Yep, I'm all about beating deadlines, extra credit, going the extra mile. Yep, I was that girl who sucked up for the title Teacher's Pet in middle school.
The next night . . . 7 pages. The same length of time it took me to review 60 pages, I only reviewed 7 little pages. All because of three paragraphs that needed rewriting. I considered that night an anomaly.
I'm through page 196, and it's getting harder and harder to feel smug.
Examples:
"Just a suggestion"
isn't so bad as the editor added "I didn't even like him" into my protag's mind. Cool. I can handle that.
"Don't know what you mean here"
obviously catches my attention, but no biggie. Rewording cleans it up.
"Disembodied body part"
stings where I wrote "My eyes darted..." Crap. I note that on others' papers in my critique groups, and I've seen it corrected four times so far in my own.
"
Again, for the 3rd time, the guy is leaving her hanging.

By the time he finishes with his own demons, she could be dead." Smack me down! Okay. This means changing some things . . . on a couple of pages, in dialogue, in action. I think this was the seven page night.
Then there's "??" then "???" then the striking "????"
You know how you write your story - all bright and shiny with an opening chapter, or two, or even ten, where you are so on your game you can hardly stand yourself? Then do you remember when you hit, say, Chapter 22 and the plot stalled and it took you forever to iron it out and come up with a stupendous twist to tie it all together? Well, somewhere around that Chapter 22 the red ink gets thicker as you have to prove yourself to this editor.
Line edits - they are thrilling knowing someone has dissected your work almost as much as you have. But it's humbling as well, knowing someone has caught you in all your little flaws, habits and idiosyncrasies.
And I wouldn't have it any other way. Not at all. This is learning, growing, and empowering. It is exciting to know there's a team behind this project. This is what I wanted when I held out to traditionally publish. I want to be picked apart so hard that I bleed red ink at the end of the day, because once I heal, I'm a strength to be reckoned with, baby.