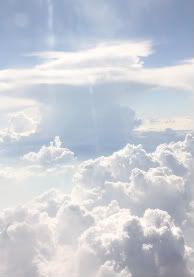 You may think me daft, but a day doesn't pass that I don't wonder what I'll miss in Heaven.
I pass the trees in my yard, studying their form, touching, wondering if Heaven has trees - if you can pluck the leaves, and crush them in your hand, telling whether it's spring, summer or fall in how they feel, smell, and sound. I love nature. Whether it's algae in a creek or the waddles of a chicken, the taste of a July tomato or the whiff of a January cedar woodfire, I pray these brilliant traits of Mother Earth accompany me when I'm gone.
I worry that we die and become images caught in an environment where we can see but not touch. Ghosts. Maybe like Nicholas Cage in
City of Angels
, we can hang around live people, watching but not participating. Remember how he experienced his first taste of a pear? Diving in the ocean? I fear I'll lose these astounding experiences.
So I try to capture the little tangibles of this life in what I write. If I capture it on paper, maybe it'll live longer?
I don't know.
"Hey, what's with Hope?" you ask. Nothing really. Life is good. I can't complain at all. It's just we have this fantastic gift of so many people, places and things around us. The least we can do is do them justice when we write.
Ever pick up an old diary or letter? Ever read something someone wrote from his heart, head, or gut decades or scores of years ago? You know how time seems to stand still for a moment as you put yourself in the author's place or dare to peek into his private life, as if you were the only one invited?
I might not be able to take trees to Heaven, but I can recreate my life's surroundings as honorably and beautifully as is in my power. I want readers to feel my fingers chip away at bark and know whether it's an oak, a pine or a crape myrtle tree. And in my own effort at creating these sensations for readers, hopefully I'll engrave them deeply enough in my own mind to take them to Heaven with me.