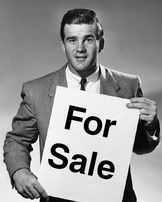 When I see a trend in my emails, when people seem to ask the same question, I feel the need to blog. If this many people are asking the same question, how many aren't . . . but are thinking it?
Writers write. Sometimes they go on a binge and write for days, weeks, months. It consumes them. It's not like NaNoWriMo, but more like running ahead of a wave, before it overtakes them, dragging the ideas away and out to sea. They run and write, knowing in their heart of hearts that this story is what will enable them to quit work and/or earn a living . . . as soon as it hits the bestseller list.
Soon the book is written, usually self-published which is quite the trend today. Some people are paying the bills via self-publishing, so it's become a little more viable an option than a year or two ago. But these people are not making a living writing . . . not yet. So they write more to assuage their doubts.
There comes a time they need to lock the damn writer in a closet.
"Oh, it's what I do."
"If I do it enough, it'll find it's way to a publisher looking for great stories."
"I posted it on Amazon."
I write these people back, not asking for a consultant's fee because they are struggling, seeking a quick fix. So I give them a quick answer. Shed the mantle of a writer and don the one of an entrepreneur - at least once a week. What does that mean?
1. Work the blog/website.
2. Write something that will earn money, even if it's not that heartfelt story.
3. Reach out to the targeted reader - define that reader - find that reader.
The results?
1.
Um, thanks.
(meaning they disagree or don't like the idea)
2.
I refuse to write anything that doesn't stir my passion.
(meaning the obvious)
3. *no response* (deeply disappointed or a silent message to me to take a flying leap)
Seriously, nobody embraces the concept of becoming a salesperson. They do not believe their work is a product/widget/inventory item. No, it's a dream that's taken flight, that people everywhere should read to feel elated, educated, enlightened, or entertained. It's manna from heaven . . . if only they would read it.
It never crosses their mind that nobody can find it!
When someone greets me, and we talk about what we do, and a book enters the discussion, three questions cross my lips:
1. Oh, who published your book?
2. How do you sell it?
3. How many copies have you sold?
I don't have to ask what it's about, because most authors exude plot, characters, and why they wrote it without being asked. But my interest in books is how they enable someone to earn a living. It's what I do, so naturally I'm curious. I've heard everything from "I self-published and sold 100 copies. I think that's great!" to "I self-published and speak to church groups. I've had three reprints and sold 5,000 copies."
The latter impressed me. I didn't ask for a website. She continues to speak and sell and has been successful doing it. She'd defined her market. If we'd had more time, I'd have asked more about how she developed her market, made her connections, and scheduled her events.
But others fret about no sales. They ask me what to do. I tell them. Many don't want to hear it. Often I hear excuses as to why they cannot speak, cannot have a website, cannot get out and sell the book, cannot afford to market. They don't understand how to self-promote. Their eyes glaze over when I speak about platform.
We part disappointed. Me in them and them in not hearing the magic formula for success.
Hundreds of thousands of books are printed each year. Most of them languish in sales. It's rare when I meet someone who embraces marketing their words. Suddenly the sales statistics make sense.
The entrepreneur is in the closet, the writer running rampant.
Lots of words - no sales.