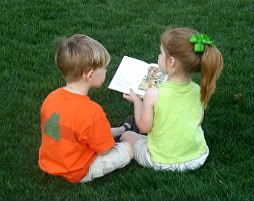 WriteOnCon is coming in a few weeks - free and online and chocked full of names. The kidlit conference will take place August 10-12, 2010.
http://writeoncon.com/
Just look at these agents and editors!
Michelle Andelman, agent with Regal Literary
Regina Brooks, author and agent with Serendipity LLC
Catherine Drayton, agent with Inkwell Management
Daniel Ehrenhaft, author and editor for HarperCollins
Mandy Hubbard, author and agent with D4EO Literary
Stasia Ward Kehoe, author and Author Appearance Coordinator for Simon & Schuster
Mary Kole, agent with Andrea Brown Literary
Jennifer Laughran, agent with Andrea Brown Literary
Steven Malk, agent with Writer's House
Mark McVeigh, agent with the McVeigh Agency
Martha Mihalick, associate editor Greenwillow Books
Molly O'Neill, assistant editor at Katherine Tegen Books, an imprint at HarperCollins Children's Books
Kathleen Ortiz, agent with Lowenstein Associates
Laura Rennert, senior agent with Andrea Brown Literary
Anica Rissi, executive editor at Simon Pulse
Holly Root, agent with Waxman Agency
Elana Roth, agent with the Johnson Literary Agency
Joanna Stampfel Volpe, agent with Nancy Coffee Literary
Suzie Townsend, agent with Fineprint Literary Management
NOTE: Seriously, this is great if you write children's literature. Where else will you connect with this many agents? Especially of this caliber. Makes me wish I wrote kidlit.
DOUBLE NOTE: Finally launched the Annual FFW Contest and thought I could prop my feet up and work on the novel. Entries are coming in already! The theme must be a good one to attract people so soon. See more at
www.fundsforwriters.com/annualcontest.htm