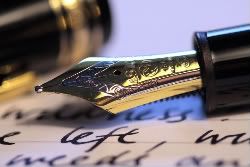 The Adirondack Review/Fulton Contest
$10 ENTRY FEE
The winner will receive $400 and publication in The Adirondack Review. Entrants whose stories receive honorable mention will also have their stories published in The Adirondack Review. In addition, they will be awarded an honorarium of $30. Entrants may submit up to three original, unpublished stories. Stories must not have been previously published in either print or on-line publications, and there is a 10,000-word limit. Email submissions only. Deadline July 31, 2010.
http://adirondackreview.homestead.com/Contests.html
NOTE: This is a literary journal competition that does
not
use the competition to collect free content for its publication. All writers selected receive an honorarium in addition to the prize money. Plus, they accept longer short fiction pieces. Everyone has a piece that's too long for a short and too short for a novel.
DOUBLE NOTE: Attended the SC Arts Commission Gala last night. Author Pat Conroy received a lifetime achievement award, and I got to hob-nob with some interesting folks. Met the head of the Cheraw, SC Arts Commission, a teeny little town in SC that believes in grants for artists. Have you contacted your local arts commission?